How to buy

Choose from one of the categories listed under the heading SHOP, and then the item of your choice.

Choose with the tabs the following selections as shown.

Some styles allow an option for different sizes and lengths.

Once the options and quantity are decided, they are saved by clicking on "ADD TO SHOPPING BAG".

To continue click "PROCEED TO CHECKOUT"

Fill in payment method (Visa, PayPal, etc.) and all required details.

A delivery address can be supplied that is different from the main details if the item is to be used as a surprise or present.

Verify that you have received an email with all the purchase details.

There is a 30 day fully refundable returns policy.
How to choose
Chain Length Chart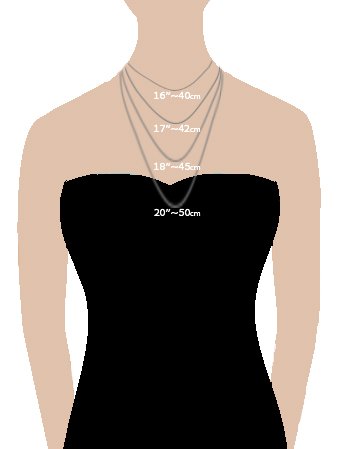 16″~40cm Necklace
Fits most like a choker
17″~42cm Necklace
Falls perfectly around the base of the neck like a collar. On a petite woman, it will hit your collarbone while for plus size women it might feel more like a choker.
18″~45cm Necklace
A common choice for women that will fall just below the throat at the collarbone. This length is popular for adding pendants which will hang over a crew neck.
20″~50cm Necklace
Will fall a few inches below the collarbone and allow a little more breathing room. Perfect for a low,
plunging neckline or if you want to wear it over a turtleneck.
How to Care
Caring for Your Diamonds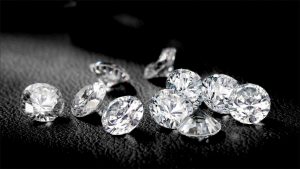 A diamond is the hardest substance known to man.  Although your diamond is incredibly durable, it can still be chipped by a strong blow to an edge.  Never wear your diamond while doing rough work…
While chlorine and bleach won't harm your diamond, they can damage or discolor the mounting.  Always remove your diamond jewelry before using any chemicals.
Do have your ring checked and cleaned at least once a year. For everyday light cleaning use a baby toothbrush and warm sudsy water in a bowl (never over the sink).
Don't leave your ring on the rim of a sink when you remove it to wash your hands. It can easily slip down the drain.
Store your diamond jewelry separately because diamonds can scratch other jewelry or each other.
The packing of your diamonds and other precious pieces for travel should be given care. There are many types of carry-alls, specially designed for jewelry travel, available in all price ranges. They come in all sizes, shapes and patterns. Most have velvet pads inside to attach pins and earrings, and special compartments for bracelets and necklaces.
Caring for Your Jewelry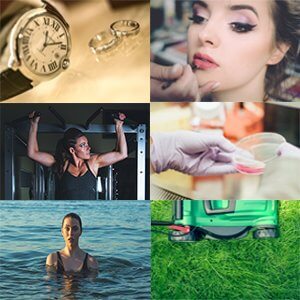 Store jewelry separately so it doesn't scratch other jewelry
When doing household tasks such as gardening and cleaning, be certain to remove rings.
Put your jewelry on only after washing and applying any makeup/hair spray.
Take off jewelry before swimming in a swimming pool. The chlorine can cause damage to various gemstones and gold.
Before doing high impact sports take off your jewelry as you may scratch the gold.
Some of the Magen David Jewelry include special materials such as enamel and require extra care against excessive heat and non-friendly substances for jewelry.
Before any needed repair or alteration, even with the help of a qualified jeweler, please request consultation with us beforehand.